Sale!
3D printer metal Kit 20X20
this is the best 3d printer for beginners because it comes with all components that needed for making a FDM 3d printer this kit includes electronics components and mechanical components that makes everything is easy in assembly and it comes with assembly guide that helps you to assemble it easily
ROBUST STEEL FRAME: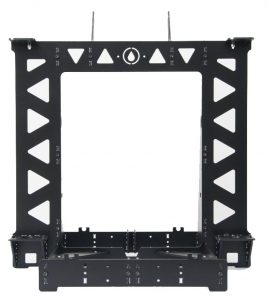 Study steel made in steel.
Black powder coated surface.
The new Steel frame is fully compatible with the new MK3 heatbed.
THE high quality NEMA 17 MOTORS:
nema 17 motors with
High Torque 4.8 Kg/cm. The integrated leadscrews improve the quality prints and accuracy.
We provide direct extruder KIt that is Fully compatible with PLA, ABS, PETG, HIPS, TPU, Flex PP, Ninjaflex, filaflex, Laywood, Laybrick, Nylon, Bamboofill, Bronzefill, ASA, T-Glase, Carbon-fibers enhanced filaments, Polycarbonates…
1.75 mm filament compatible and 0.4 mm nozzle ( easy interchambible.)
IGUS COMPONENTS:
Igus chain guide in the X axis
Silent igus bearings.
•MK8 direct Extruder
Fully compatible with flexible filaments.
High speed printing
Improve the filament extrusion
MARLIN PRUSA FIRMWARE
We provide open-source Marlin firmware.
High-end electronic board based in Arduino
Wishlist
Description
ترم اكاديمي بتوفرلك كيت كاملة الشاسية حديد لضمان الثبات وبنسعدك انك تجمعه و تشغلها
المكونات الموجود في الكيت:
Components
arduino and ramps
steel frame
Limit Switch
SILCONE HEATBED
3d printed part
lead screw
lead screw nut
power socket
power caple
POWER SUPPLY
Leveling kit
Extruder Kit (heater +block+sensor+pipe 6mm)
MK8
Turbo fan
Guide 8mm 54 CM
Ideal pully
coupler
belt 1 meter
driver drv8825
LCD
linear Bearing 8mm SCS 8MM
linear Bearing 8mm
GT2 pully
Stepper motor